Norwegian weapon industry reports growth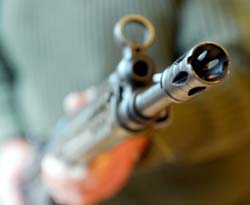 Norway may be a peaceful nation, but it is one of the top nations when it comes to weapon export, according to numbers presented by Statistics Norway.
New numbers from Statistics Norway (SSB) indicate that Norwegian weapon export during the first three quarters of the year amounted to NOK 918 million (USD 146 million), indicating that the export has fallen somewhat from last years record. However, there is still a growth compared to previous years.
SSB reported that Norway is the world's sixth largest exporter of weapons. The list is topped by the US, Canada and Great Britain followed by Italy and France. However, compared to the population, Norway ranks at the absolute top.
During the first nine months of this year, Norway has exported military equipment to Spain for NOK 175 million (USD 28 million), to the US for NOK 91 million (USD 15 million) and to Turkey and Sweden for NOK 50 million (USD 8 million) each.
Some of the growth is connected with the development of the Norwegian of frigates in Spain, in addition to the wars in Afghanistan and Iraq.
SSB used data from the customs declarations in order to compile the numbers. The statistics includes products in ordinary sale from Norwegian exporters to buyers abroad. Equipment which is delivered between Norwegian and foreign military powers as part of military agreements are not declared so they do not appear in this statistics. The same goes for equipment from Norway that Norwegian military use on missions abroad.
There are no secret goods in the Norwegian export of military equipment, according to SSB.
Via Nettavisen News in English.
Freedom and Politics
[12:19]