Munch's Madonna damaged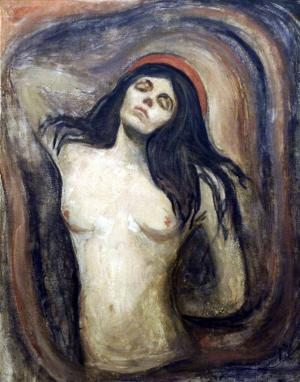 Newspaper VG claims that a range of 'independent sources' have information about the stolen Munch masterpieces "The Scream" and "Madonna".
Munch's "Madonna" is rumored to have suffered serious damage during its theft from the Munch Museum in Oslo.
Both paintings were taken in the surprise raid on the Munch Museum on Aug. 22 this year. VG claims that sources from both the art world and criminal sources say that at least one of the paintings has been seriously damaged.
Witnesses said that both paintings received very rough treatment as the thieves removed them from their frames in the course of their escape. The "Madonna" is reportedly ruined.
VG reported that an underworld source claimed to have seen the paintings in Norway and confirmed the damage to "Madonna". The paper said that several sources assert that the paintings remain in Norway.
Police said that their investigation is continuing and that they remain optimistic. The getaway car can now be linked to several suspects known by name.
Via Aftenposten News in English.
Art and Culture
[13:21]