PM challenged over ties to powerful Christian group in US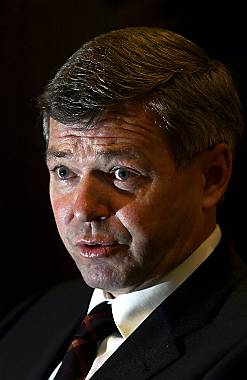 Opposition political parties in Norway's parliament, from the Labour Party to the conservative Progress Party, are demanding that Prime Minister Kjell Magne Bondevik, who is an ordained minister, explain his ties to a secretive, Christian "fellowship" based in the US.

Bondevik, who hails from Norway's Christian Democrats, has had ties to The Fellowship Foundation for 20 years, according to newspaper Dagbladet.
Norway's current ambassador to the US, Knut Vollebæk also attends meetings in Washington, and several members of the Christian Democrats (Kristelig Folkeparti, KrF) have long been associated with the group, according to Fellowship archives reviewed by Dagbladet.
The Fellowship Foundation has often been described as an arch-conservative, fundamentalist Christian "brotherhood" that has sought to influence political leadership for decades. Current members include outgoing US Attorney General John Ashcroft.
Now even the Progress Party, Norway's most conservative political party, is raising questions about Bondevik's participation in the group, as are the Labour Party and the Socialist Left (SV).
"Seen with Norwegian eyes, this is a reactionary association," SV leader Kristin Halvorsen said Tuesday. "When Bondevik participates actively in its network, he's signalling a political relationship."
Labour Party leader Jens Stoltenberg told Dagbladet that Bondevik should clarify his role in the group as soon as possible.
Bondevik told Dagbladet that he participates in the Fellowship mainly as a "private person," not in his role as prime minister.
He conceded, however, that a dinner at Fellowship headquarters in 2001 with the then-new US Attorney General John Ashcroft was linked to his public role. The dinner was never officially noted in Bondevik's agenda during an official trip to the US at the time.
Via Aftenposten News in English.
Freedom and Politics
[14:13]