Norwegian expert to check possible Viking ship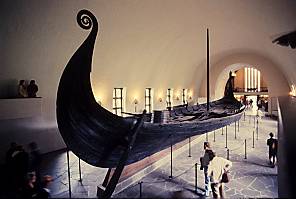 A Norwegian professor is traveling to investigate the discovery of what could be the first Viking ship found on English soil, newspaper Dagsavisen reports. Enthusiasts using metal detectors found coins, swords and ship's nails dating from the ninth century in a Yorkshire field.

Professor Arne Emil Christensen, supervisor of the Viking ship finds now on display in Bygdoey, Oslo, is considered one of Europe's leading experts in the field. He was headed to Yorkshire to assess the find.
"If it is truly a ship from the Viking age it is very exciting. There are just a few - three or four - well preserved finds of ships in the world," archeologist Knut Paasche told Dagsavisen.
English archeologist Simon Holmes told The Guardian that he was "95 percent certain it is a boat burial".
Paasche believes that dating the find should go quickly and fears that the ship itself may be destroyed if the burial mound has been removed.
Paasche said that the ship's origin can also be determined by an analysis of various factors, including the weapons, the building technique and surviving wood from the structure.
The picture shows the famed Oseberg ship on display at the Viking ship museum in Bygdoey, Oslo. (Photo: Erik Thorberg/SCANPIX)
Via Aftenposten News in English.
Science
[08:48]