Rover Spirit recovered!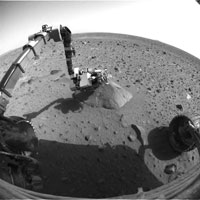 NASA's Mars Exploration Rover Spirit is healthy again, the result of recovery work by mission engineers since the robot developed computer-memory and communications problems 10 days ago.
"We have confirmed that Spirit is booting up normally. Tomorrow we'll be doing some preventive maintenance," Dr. Mark Adler, mission manager at NASA's Jet Propulsion Laboratory, Pasadena, Calif., said Sunday morning.
Spirit's twin, Opportunity, which drove off its lander platform early Saturday, will be commanded tonight to reach out with its robot arm early Monday, said JPL's Matt Wallace, mission manager. Opportunity will examine the soil in front of it over the next few days with a microscope and with a pair of spectrometer instruments for determining what elements and minerals are present.
Read the story at Jet Propulsion Laboratories.
Science
[09:40]