The ultimate gender bender!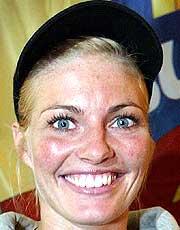 "I was never a lesbian"
During the last year, Norwegian handball star Mia Hundvin broke off her marriage with her lesbian team mate and now she and her boyfriend, snowboard star Terje Håkonsen, are expecting their first child in April.

"I have been sure all the time; I'm not lesbian", stated Hundvin to the women's magazine KK.
In the next issue of KK, Hundvin tells her story about the break-up with Camilla Andersen and her pregnancy.
"Generally speaking, I don't think I could be with a girl again, but I have learned one thing; you never get any guarantees", Hundvin stated in the interview.
Via Nettavisen News in English.
The 26-year-old handball player on the all-star team said that she had a very strained relationship with the Norwegian press. She claims she and Håkonsen were followed by the magazine Se og Hør when driving to Trysil.
"It's absurd," Hundvin stated. "And violating. When my family and friends suffer, I just get despaired. And pissed off."
The same day the break-up with Andersen became known, they met at handball practice at the same time. A female reporter touched her shoulder and asked how she was doing. Hundvin said that Camilla went between them, and thereby, prevented her from taking a swing at the reporter.
"I hated all the attention when I played at the all star team", Hundvin said. "I stood there and looked at all the journalists, and realized that I just wanted to hit them".
Hundvin said she does not consider herself to be either a lesbian or a bisexual, in spite of the fact that she was married to a woman.
"I am Mia. When you have feeling for someone, you forget what gender the person is", Hundvin explained. "I never met anyone who had prejudices against me because I was married to a woman, but I have never considered myself to be gay either".
The handball star is expecting a child in April, and she is now living with Håknsen in his house on Bygdøy in Oslo.
According to Hundvin, "A little cottage worth NOK 10 million (USD 1.5 million)".
"Money is not an issue", she stated. "I have no idea how much he makes annually. I'm really not interested either".
Hundvin said she is not sure her boyfriend will be present when she gives birth in April, or if he will prioritize the snowboard competition The Artic Challenge in Tromsø!
Bizarr
[10:07]