Web sites lure Chinese to Norway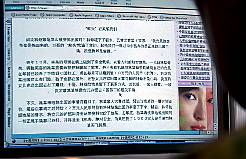 Web sites touting high income and standards of living in Norway have reportedly prompted scores of Chinese to borrow large amounts of money from agents offering to arrange their travel and residence permission. Many are now living in fear after two Chinese students were murdered in Oslo.
"The Chinese themselves will never admit they have used such agents, because it's not considered honorable," one Chinese businesswoman in Oslo told newspaper Aftenposten. Like several others interviewed by Aftenposten, she requested her name be withheld for fear of reprisal.
The agents, she claimed, offer to arrange everything necessary for young Chinese to move to Norway, from visas to airline tickets and school admission. They charge as much as NOK 250,000 (around USD 30,000) for their services.
Few can come up with such cash, whereupon the agents often offer to lend the money to their clients, at skyhigh interest rates. The agents concentrate mostly on luring potential students to Norway, but also offer emigration services such as arranging marriages that would allow permanent residency in Norway.
Other sources told Aftenposten that if the clients fail to meet repayment terms, their debt is automatically doubled. As many as six agents, both men and women, are said to have been active in the Norwegian market over the past 15 years.
Via Aftenposten News in English.
"The agents present themselves as helpful, kind people," said one source. "He or she never acts like a loan shark." If he or she runs into trouble collecting from their clients, the source added, the agents can hire loan sharks to pressure those in debt.
It remains unclear whether the two murdered students had used agents' services, but police say they're checking all leads in the case and "keeping all possibilities open." Newspaper VG reported Wednesday that the mother of one of the victims said her daughter was very worried during their last phone conversation on February 12, because she'd had an uncomfortable conversation with a man. She wouldn't say who the man was.
Police now believe Ning Yan Yu, age 23, and her boyfriend Yuhang Wu, age 22, were murdered the next day.
None of those who spoke with Aftenposten would allow their names to be used. Several said fear was now rampant among Chinese in Norway, because even though they've known the so-called "snakehead" agents are active in the country, they've never been known to use brutal methods.
Officials at the University of Oslo say they reject all contact with agents purporting to represent students from China, dealing instead only with recognized exchange student programs.
Foreign ministry officials also confirm they are well aware of agents operating on behalf of would-be students and have warned schools against using them.
Internet
[15:57]