Tourists (I)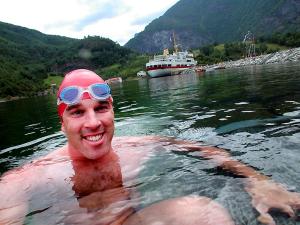 A lawyer from London has suddenly emerged as the new hero of one of Norway's most famous fjords. When he emerges from the chilly waters of the fjord, that is.
Lewis Gordon Pugh launched an unusual quest last month. The long-distance swimmer decided he wanted to be the first person to swim the entire length of the Sognefjord, a distance of exactly 204 kilometers (122 miles).
His mission initially was met by a rather large degree of Norwegian scepticism. Some viewed him as just another exhibitionist bent on publicity during an otherwise uneventful summer.
But then Pugh plunged into the chilly water at Skjolden in Luster Township on July 26 amidst a bit of local TV coverage. A week-and-a-half and around a hundred kilometres later, Pugh has stroked his way into the hearts of the natives along the fjord.
When he literally crawled his way towards the pier at Hermansverk Monday, hundreds of onlookers were on hand to greet him. Mayor Olav Lunden was there as well, to give him an official welcome.
Pugh also found himself being followed by around 20 boats. Best of all, the temperature in the water has risen as he swims towards open sea and away from the cold glacier streams that empty into the fjord.
"The only problem I've had is a sore shoulder," Pugh told newspaper Bergens Tidende, adding that a physical therapist has been able to help him with that.
He's also lost about four kilos (nearly nine pounds) of the extra weight he intentionally put on before setting out on the swim. The excess body fat aimed to keep him warm when the water temperature initially hovered around 6C.
Pugh hopes to set a new world record with his swim and National Geographic is following his progress. He's already swum across the English Channel and around the Cape of Good Hope in South Africa.
Via Aftenposten News in English. Photo: Terje Eggum/SCANPIX
Leisure
[12:23]